See how to make these easy DIY wine glasses!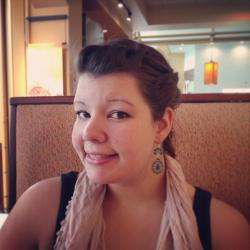 Jessica Griggs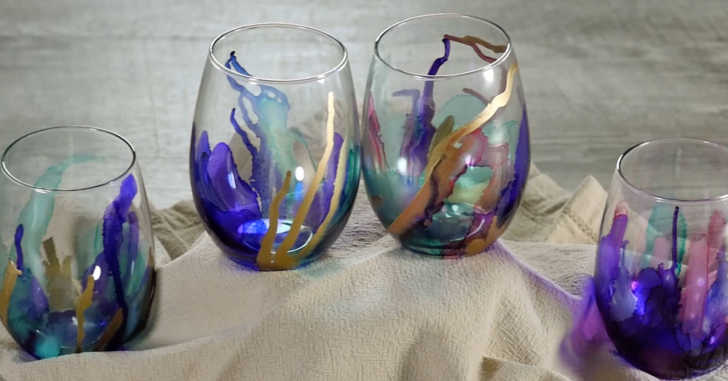 What's the best way to class us a dinner party (or a solitary glass of wine on a Tuesday evening)? Custom wine glasses, of course! I just love how these turned out. Like any work of art, each glass is totally unique in the way the colors blend, twist, and spread down the glass. These would make an awesome gift set for the wine lover in your life, or you can keep them for yourself like I did. There's no judgment here.
The best part is, you only need a few supplies for this project, and they dry pretty quickly so you can easily make these in the afternoon and use them that evening!
The key to this project is getting the right kind of dye. This isn't your typical paint – it's alcohol ink. It's a lot thinner and yet more vibrant than a lot of dyes out there, and I think we can all agree, the results really speak for themselves.
Adding a layer of rubbing alcohol before dripping on the alcohol ink does a few things. First, it allows the inks to mix and bloom. It also thins the ink out a bit, which allows it to spread out and dry quicker. If you mess up or your ink reaches the end of the glass, you can always remove the ink using a cotton swab and some rubbing alcohol. Once you have everything the way you want it and you allow about 30 minutes to dry completely, simply paint on a thin layer of dishwasher-safe mod podge and let dry. See what we did in the video below and get the full instructions beneath the video!
Supplies:
– Ceramic mug, wine glass, etc.
– Rubbing alcohol
– Alcohol inks
– Paintbrush
– Straw
– Mod Podge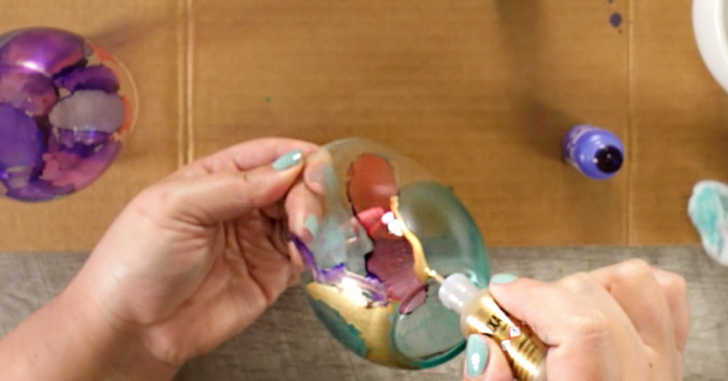 Directions:
1. Clean off the surface of your glass and apply a layer of rubbing alcohol.
2. Paint on a line of alcohol ink near the bottom of the glass and turn the glass upside down.
3. Gently blow on the ink with a straw to spread the ink.
4. Once dry, apply a layer of mod podge.