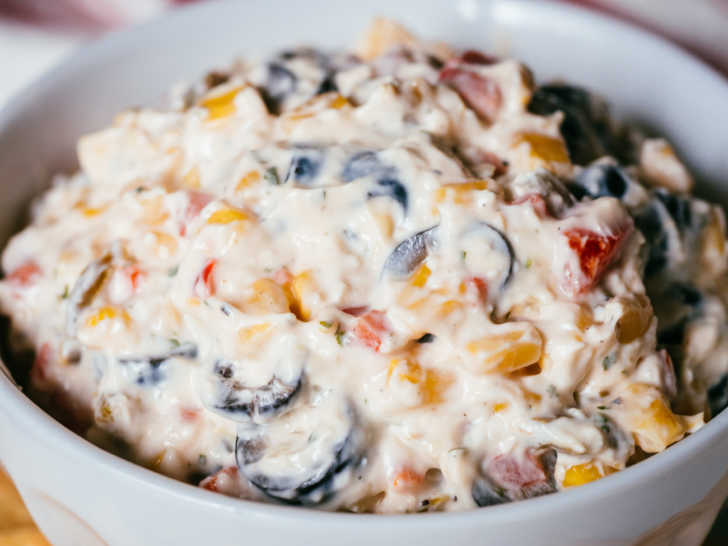 When the weather turns from springtime rain to summer sun, we start to look for ways to beat the heat, and this includes our two favorite ways to dip: in a pool and in a bowl. We love taking a dip into something cool when we need a little refreshment. And we're pretty sure that our chips and veggie sticks like to do the same! What better way to seek refreshment than this super easy, cool and creamy side dish. A secret ingredient takes this simple dish up a notch, making it so irresistible, you'll probably want to make a double batch!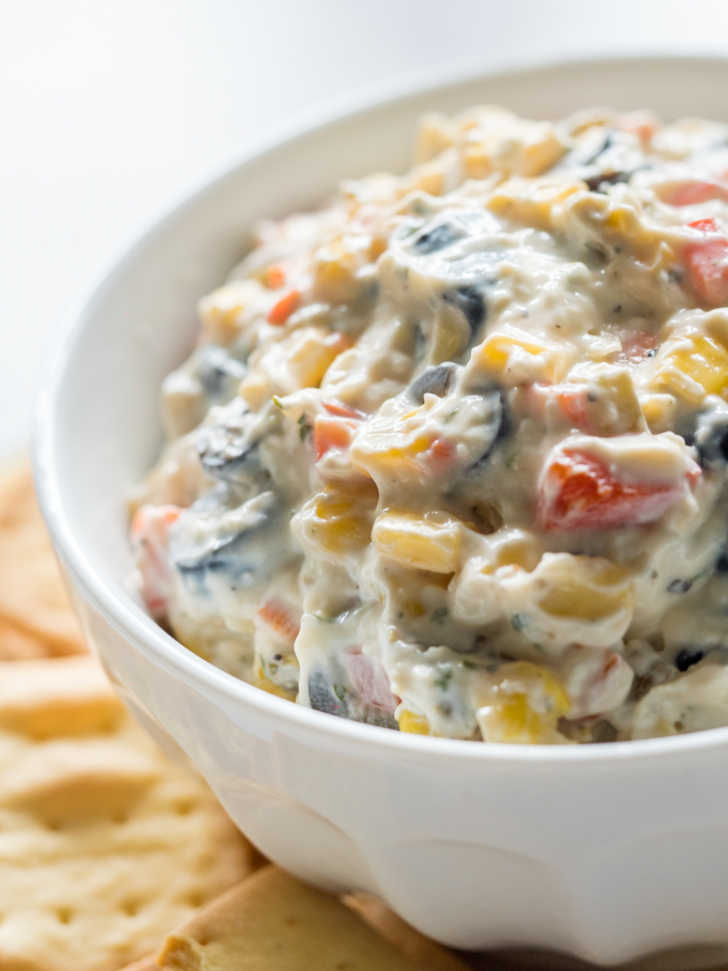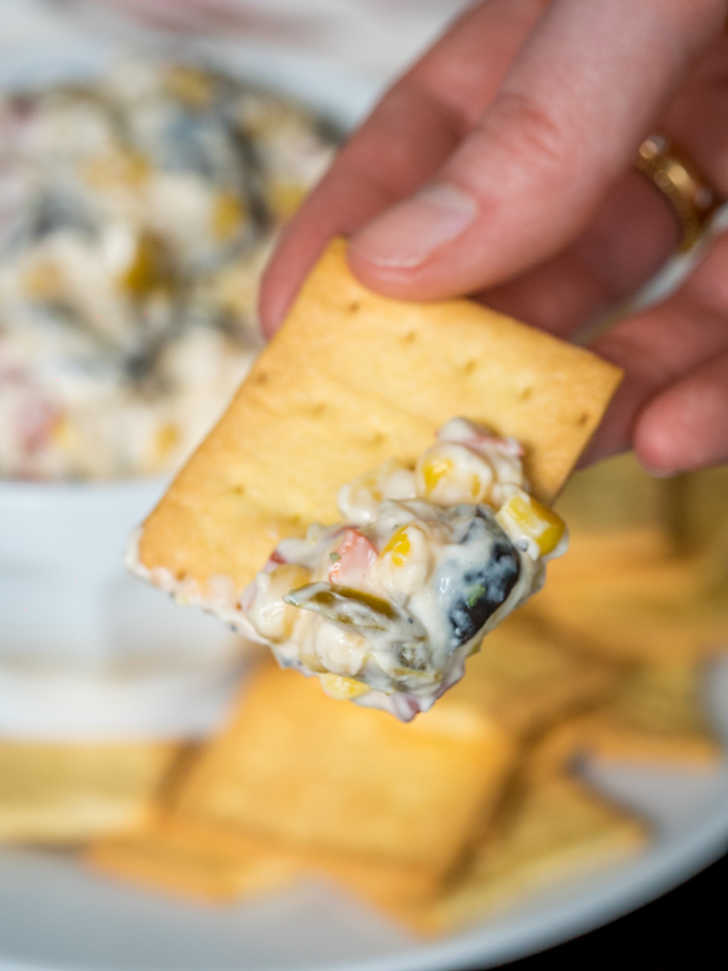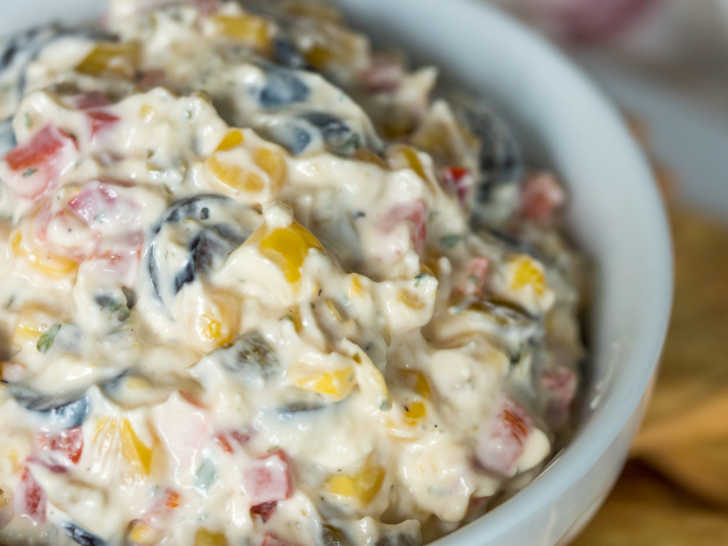 An important part of what makes food so delicious is how it looks, and you can't beat the colorful combination of flavors: sweet corn, salty black olives, and crunchy bell peppers all add an appetizing pop of color. Cool cream cheese is the perfect sidekick to spicy jalapeño, although using a canned means we can find serve up milder flavor, which makes the dip a little more kid-friendly. But when we want an little heat, we look no further than fresh jalapeño. And the secret ingredient: ranch seasoning. It adds an extra layer of flavor that really makes this dip shine.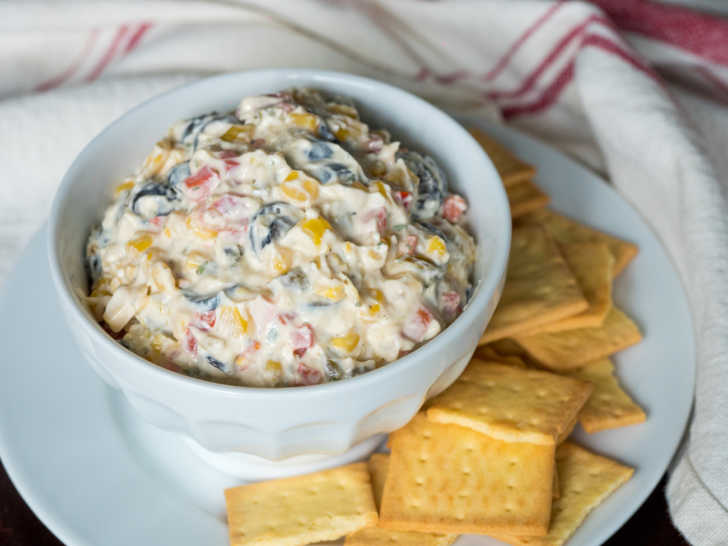 Poolside dip is super easy to make, and we love it for that reason. A little stirring and chopping result in the perfect nibble to set out for any gathering, regardless of the season. This is a dip that goes well for fall football and is perfect for a summertime backyard barbecue. Having recipes like this in our arsenal – that are universally seasonal – help make entertaining a little easier. And clean up is a breeze, since everyone will scrape the bowl clean, scooping out every last delicious bite!
Loaded Up Poolside Dip
Ingredients
1 (8 oz) package cream cheese, room temperature
1 (1 oz) packet ranch seasoning mix
1 red or yellow bell pepper, diced
1 (4 oz) can diced jalapeño, drained
1 (6 oz) can black olives, diced
1 (15 oz) can corn, drained and rinsed
kosher salt and freshly ground pepper, to taste
Serving options: pita chips or crackers; veggie sticks
Preparation
Mix cream cheese, bell pepper, jalapeño, olives, and corn in a bowl. Add ranch dressing and stir until fully incorporated. Add salt and pepper, to taste.
Transfer to serving dish. Cover and chill for 1 hour.
Serve with pita, chips or with cucumber and carrot slices.
Recipe adapted from The Recipe Critic