Keep the bugs away while still looking adorable. Win win!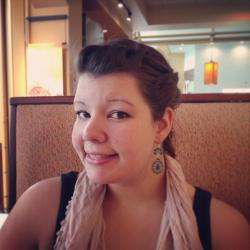 Jessica Griggs
It's no secret that we love making candles around here. From the decadent french vanilla latte candle to the bold and funky color block candle, and even our festive stacked hearts candle, we always have something going on in the candle department. Today's candle recipe includes one of my favorite scents: lavender! When combined with citronella essential oil, this candle proves to be a mighty defense against those pesky bugs that come out during the warmer months.
In the video below, you'll see just how easy it is to make these candles. The first part of the video walks you through how to make a rustic mason jar candle holder. It really is amazing what a little chalk paint with a wax finish can do! If you already have an empty jar or candle holder in mind, go ahead and skip to 0:50 where the actual candle making begins. Don't be intimidated by this crafts! Candles are so easy, I'll never buy another candle again!
Supplies:
– Mason Jar
– Painter's tape
– Chalk paint
– Hot glue
– Wax
– Lavender & citronella oils
– Wax dye chips (or crayons)
– Wicks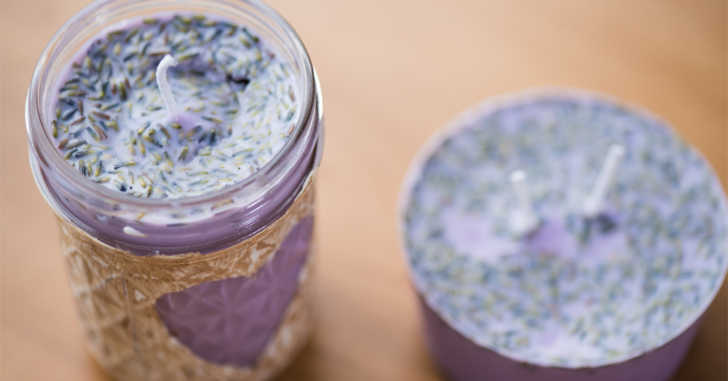 Directions:
1. For the jar – cut a heart out of painter's tape, place on a clean mason jar.
2. Paint with chalk paint and let dry.
3. Once dry, peel off the tape (optional: cover with antique wax), sand down for a more rustic look.
4. For the candle – Secure the wick to the bottom of the mason jar with a dot of hot glue.
5. Melt wax and dye chip (or crayons).
6. Stir in essential oils.
7. Pour wax in candle, wrap wick around a pen to hold in place while drying.
8. Allow wax 4-6 hours to dry before using.