See the amazing way it was quilted!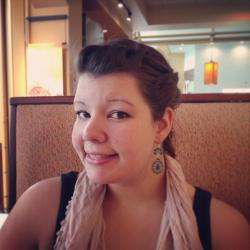 Jessica Griggs
Talk about the most epic quilt! This quilt has over 500 hexagons made from all of the first few lines of Tula Pink's fabric. There are some vintage fabrics and very difficult to find fabrics in this quilt. How would you go about quilting this quilt top?
First things first, you have to figure out what is most important. Obviously, in a quilt like this, you really want the fabric to shine. Therefore, you don't want to over quilt. You really don't want the stitching to detract from the rare and beautiful fabric used here. Plus, this pattern already feels busy with all the bold prints repeated.
Angela shows us just how she tackled this epic project. Since each hexagon brings something different to the table, she chose to use different patterns in each one. For fabrics with big, bold designs, she simply traced around and echoed the design. For the more muted, "filler" fabrics, she chose a simple swirl feather. What really brought the design together was what she did in each of the triangles! Go ahead and see how Angela finished this monster of a project!