And it's SO SOFT!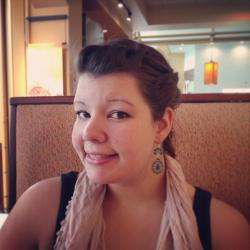 Jessica Griggs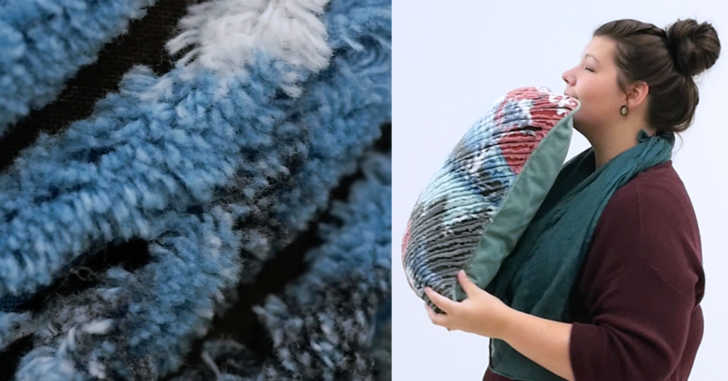 I don't know if you can tell, but I absolutely love this pillow! I think the reason it turned out so well is two-fold. First, the awesome retro Seattle Skyline fabric is the absolute perfect panel to use for this project! And second, our friends over at Pacific Fabrics did an excellent job of executing the faux chenille method.
It's actually a lot easier than you might think – even I could probably do this easy quilting project. The key is in the layers! Get 5 layers of your fabric of choice and then using a marking pen and a ruler, start marking diagonal lines about 3/4 inches apart. (Don't worry about the lines on the fabric, part of completing the look is to wash and dry the finished project several times).
Go ahead and see how it's done in the video below, and get the full written instructions beneath the video!
Supplies:
– Five layers of panels (or other fabric of your choosing)
– 1/2-yard of coordinating fabric for backing
– Pillow form14 x 18 inches (poly-fill stuffing)
– Chalk of removable ink pen
– Quilting ruler
– Walking foot
– Sharp scissors or Olfa Chenille Cutter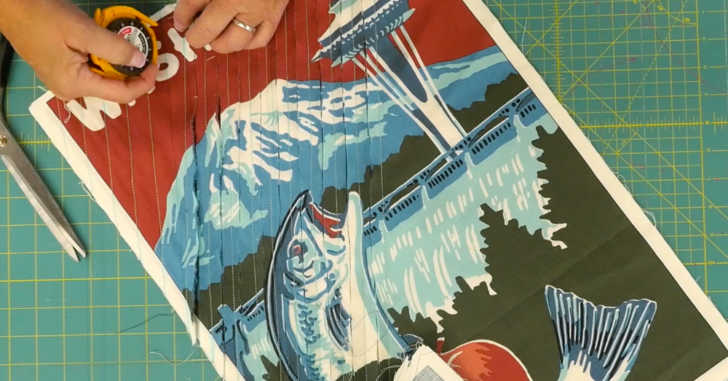 Directions:
1. Trim each panel leaving 1/2 inch border around the outside edge.
2. Layer five panels together, print side up, making sure that images are lined up.
3. Draw a diagonal line, using the ruler and marking pen, from the upper left-hand corner to the lower right-hand corner of the panel.
4. Place the ruler 1/2 to 3/4 inch from this original line and draw a second line parallel to the first.
5. Continue drawing diagonal lines, 1/2 to 3/4 inch apart on the whole top corner of the panel.
6. Repeat on the lower portion of the panel.
7. Pin the five layers securely together and stitch on each diagonal line, through all five laters. We recommend using a walking foot. Begin sewing on the center line.
8. When all of these channels of stitching are complete, cut through the top four layers of fabric between the rows of stitching. Make sure to leave the bottom layer to keep the rows intact.
9. Cut the pillow back to the size of the faux chenille front.
10. Pin the backing to the front of the pillow with the right sides and stitch. Leave an opening on one side to turn right side out.
11. Turn the pillow right side out and wash in the washing machine to fluff out the rows of faux chenille. Dry in the dryer. Repeat to create desired fluffiness.
12. Stuff and stitch the opening shut.