Sweet and dreamy, this falling charms quilt is the perfect beginners quilt…check it out and get started today!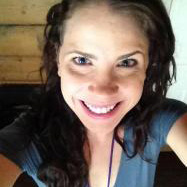 Katie Arnold
"I've got scraps, they're multiplying…

And the piles are losing control…

All the quilting power, they're supplying…

It's sew electrifying.

My fabric better shape up, 'cause who needs a man?

When my heart is set on you?

My fabric better shape up, it better understand

To my quilting I'll be true!

Nothing left, nothing left for me to do

YOU'RE THE QUILT THAT I WANT!!!!

You are the quilt i want!

Oooh ooooh ow, (needle)"
This quilt is equal parts dreamy and romantic, so the fact that you only need four charm packs and a jelly roll to get started is awesome! Jenny Doan (gotta love her!) of the Missouri Star Quilt Company gives us the rundown on how to create this beauty, and we're happy to report that it really is simple enough for just about anyone. For a piece that quilting novices and masters alike will adore, grab your charm packs and get going!
Now, THIS is the quilt I want to make!