These concrete hands are easy to make, and super creepy!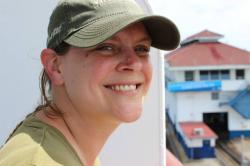 Shannon Fleming
Anyone can go to the local super store and buy Halloween decorations, but how much spookier would it be to make your own? These concrete hands are easy to make, and super creepy!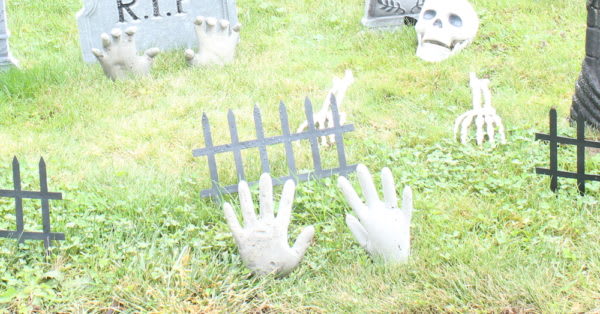 Materials:
You'll need some concrete patch – finely ground so there aren't any rocks – some rubber gloves, and small trowel or garden shovel and you're off! With these ones, I did add six-inch spikes to the concrete so I could stand the hand up in the ground. The spikes can be found at any hardware store.
Mix & Pour
Mix your concrete…the thicker you make it the quicker it dries, and it's much less messy! Once the concrete is mixed, pour into the rubber glove. I found it helpful to place the glove around a Mason jar lid, and balance it over a bucket. Use the trowel or garden shovel to fill the gloves, squeezing the palm of the glove as you go to fill the fingers. I didn't worry too much about air bubbles in the fingers, as it seems to have added to the creepy effect.
Tie & Dry
Next, tie off the top of the glove or hang and let dry. If you use the spikes, set them in the concrete before tying off the glove. I let mine dry for about 2 days before taking the gloves off just to make sure they were completely solid. Then I let them air dry for another day or so to be on the safe side.
Drying Methods
I used a few different methods for tying and drying. I let one glove hang dry without tying it off and it created a flat base where the spike was. The others I set on the ground and curled the fingers, using whatever I could find that would hold the fingers to shape without creating too much of an indent in them. Putting them on the ground resulted in one side being completely flat, which will probably make them easier to store.
Tips, Tricks, & Ways To Customize
There were a few other ideas that came up when I was working on these that I haven't tried yet (there's always next year!):
Dip the fingers in red paint.
Place a plastic skeleton hand in the glove before filling with concrete, and then leave the tips of the plastic fingers exposed.
Make a mold of my own hand to fill with concrete to give the hands a more lifelike appearance.
What fun creative ways can you think of to make these cool hands even creepier? Or fun?