You'll never forget another grocery item or appointment with this super simple craft!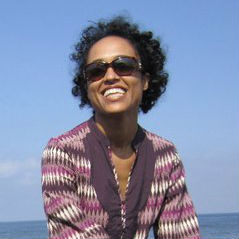 Sarah Cool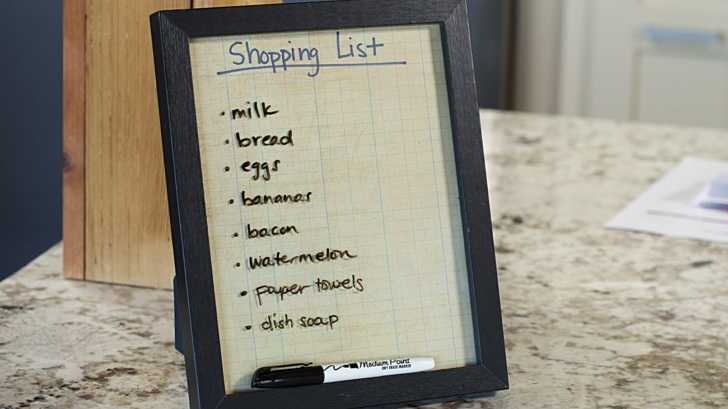 We all have little lists floating around on various pieces of scratch paper, in notebooks, or on our phones. One way to keep track of life's lists is this fun DIY to help you stay on top of all the activities and supplies that you need to go about your day. Don't go out and buy a dry erase board…we've found a super simple craft that is not only handy to have for those "to do" and "grocery shopping" lists, but it is also a fun way to leave messages or greetings around the house. All you need is a picture frame, a dry erase marker, and a sheet of paper – 3 supplies that come together to make your life a little bit easier. Use this as a message board to alert family of dentist appointments or soccer practices; you can also use this as a menu board, where the week's meals are displayed (this is also a handy way to remember what groceries you have on hand for meal prep).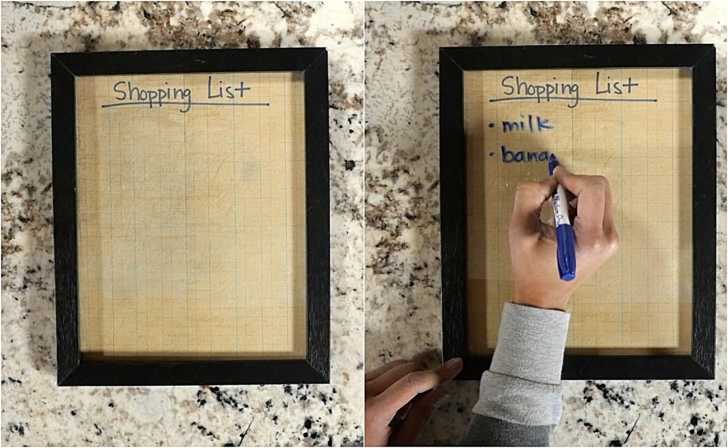 We love how easy this is and how well it works! This is a great craft for young and old alike. The supplies couldn't be simpler and picture frames and craft paper can be customized to suit any personality. We've kept ours pretty simple, but to add a little flare, decorate the picture frame with acrylic paints, colorful beads or other craft supplies to make this more personalized. We like to keep a smaller version on our desk at work for those little reminders or to do items. At home, a dry erase board comes in handy for leaving little notes of affection or as reminders for chores. This is also a great way for little learners to practice writing their letters or a way to draw fun pictures.
Run out to the dollar store to pick up a picture frame, or better yet, make use of an old frame that's just been tucked away in a drawer or closet. Any color of dry erase marker will do, and the board is easy to erase; grab a towel and wipe away your notes and messages. Occasionally, we will use a glass window cleaner to keep the surface fresh. We love little DIYs that are simple AND useful!
DIY Dry Erase Board
Supplies
Picture frame
Cardstock or any decorative paper
Scissors
Dry erase markers
Directions
Cut out cardstock to dimensions of picture frame.
Print out any theme (To Do List; Shopping List; Menu)
Place cardstock into picture frame and write on glass with dry erase marker.