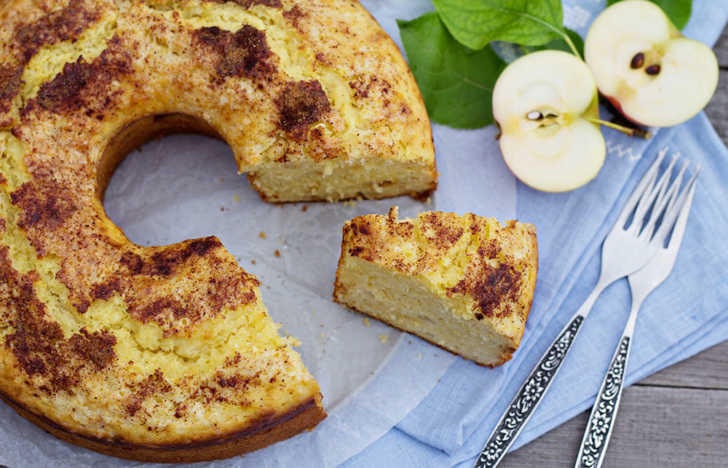 Just the right combination of sweet, tangy, moist and delicious, this yummy apple cake becomes an instant favorite at any table. It's not too sweet and incredibly moist, thanks to the sour cream in the batter, and the tart apple-cinnamon flavor wins over any skeptic. This cake is easy to make, the ingredients are versatile, and you can serve it for almost any occasion. Have it for breakfast alongside your favorite coffee, or slice it for friends at an afternoon tea party. This is the perfect cake to round out a brunch menu, and it's a satisfying treat to finish off dinner. Top it with whipped cream or ice cream, or just enjoy it as is and savor the goodness.
Sour Cream Apple Cake
8 - 10
15 minutes active; 90 minutes inactive
Ingredients
2 cups flour
1/4 teaspoon salt
3 teaspoons cinnamon, divided
1/2 teaspoon nutmeg
1 teaspoon baking powder
1 teaspoon baking soda
1/2 cup (1 stick) softened butter
1 cup sugar
1 teaspoon vanilla extract
2 large eggs
8 ounces sour cream
2 medium apples, chopped (about 2 cups)
8 tablespoons chopped walnuts or almonds
1/2 cup brown sugar
Preparation
Preheat oven to 350º Fahrenheit, and grease bundt pan with nonstick spray.
Combine flour, salt, nutmeg and 2 teaspoons of cinnamon in a medium bowl. Stir in baking soda and baking powder, and set aside.
Mix softened butter and sugar in a separate mixing bowl until a creamy consistency forms. Beat in eggs, one at a time, combining until creamy. Add vanilla and sour cream, and mix until well blended.
Sift in dry ingredients, beating the mixture on low speed to form a batter-like consistency. Fold in chopped nuts and apples, stirring gently to evenly distribute.
Pour the batter into bundt pan. Sprinkle evenly with brown sugar and 1 teaspoon of cinnamon, and bake for 50 to 65 minutes, or until a toothpick inserted into the center comes out clean.
Turn cake onto serving plate after cooling in pan for 20 to 30 minutes. Serve warm with your favorite toppings.
Recipe adapted from Food