Learn How to Make a DIY Cinema Lightbox and Create Movie Magic at Home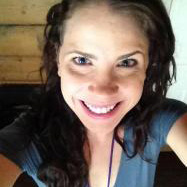 Katie Arnold
Now you can enjoy a little cinema magic in your own home … no popcorn required. Watch this video for a tutorial that shows a step-by-step process for creating your own marquee sign. Collect wooden boards (each about a foot long), and make sure that your light cord can pass through easily so you can illuminate the sign and add some fun to your home theater.
If you don't want to make a whole box, never fear. You can also try making individual letters for a special, personalized effect. Simple strings of lights in each letter create a soft and inviting feel.
There are so many different ways to light up your home. If you want a really unique look, try your hand at making these DIY lanterns for a whole new and whimsical use for home decorating. Perfect for parties, entertaining, or to match the appropriate season or holiday!