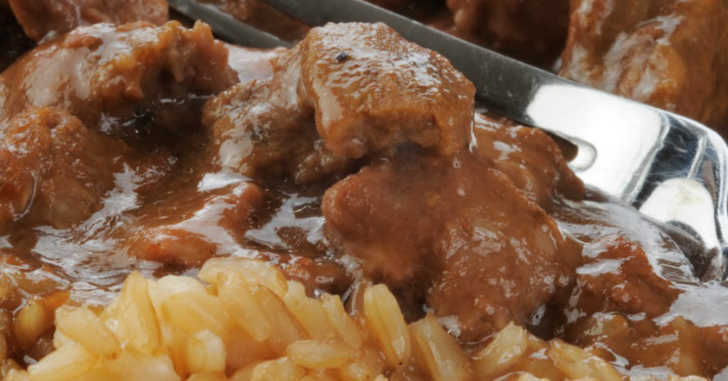 When we want a hearty and filling recipe, we go for beef tips with brown rice and gravy. All it takes is a slow cooker set on high and it's ready in three to four hours – we hardly have to do anything! The slow-cooking process enhances the flavor of less expensive cuts of meat so that they become tender and tasty, and because of that, this dish has quickly become a family favorite. If you're looking for a hot meal that everyone will love (and that you can enjoy as leftovers later in the week), this is the dish for you!
Slow Cooker Beef Tips And Gravy
12
20 minutes prep; 4-6 hours inactive
Ingredients
3 1/2 pounds beef sirloin tip roast, fat trimmed and cut into cubes
2 packages brown gravy mix
3 1/2 cups water
1 can mushrooms, optional
2 cups long-grain brown rice
1/2 teaspoon salt
1  beef bouillon cube
1  small onion, finely chopped
Preparation
Place the cubed beef and chopped onion in the bottom of the slow cooker.
Mix both packets of brown gravy mix with 1 cup of water, and pour over the beef tips.
Add the mushrooms and liquid from the can, if using.
Add bouillon cube and set the slow cooker to high for 3-4 hours (or low for 6-8 hours).
Place the brown rice, salt and remaining 2 1/2 cups of water in a wide, shallow pan. Bring it to a boil. Reduce the heat to simmer, cover the pan and cook for 30 minutes.
Fluff the rice with a fork, and place a serving on each plate. Ladle the beef and gravy over the rice for serving.
Recipe adapted from In The Kitchen With KP