This 5 petal flower pattern will brighten up your little one's dress!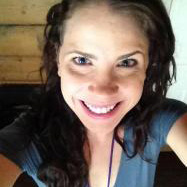 Katie Arnold
We understand that being a leftie can sometimes make you feel in the dark when most of the patterns and tutorials out there are being done by right handers. Well we are excited to share this left hand tutorial by CreativeValerie for a Simple Five Petal Crochet Flower.
The Five Petal Flower Motif is a simple flower pattern that is perfect for even a beginner to learn. It is quick and easy to create and makes for a perfect adornment. You can use a single flower to brighten up a hat, scarf, or headband, or bunch several in different colors to lend a spring-like cheer. This video tutorial teaches you to crochet a five petal flower using the connecting chains method.
While we are talking about lefties, be sure to check out these tips and tricks for the crocheting leftie!