Keep your hands warm without losing your fingers with these fun crocodile fingerless gloves!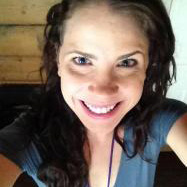 Katie Arnold
Remember the mermaid blanket?
What if we told you we found the perfect accessory to go with that gorgeous and fun blanket? We promise the Crocodile Fingerless Gloves are just that!
This tutorial from Meladora's Creations for Crochet makes the perfect addition for that adorable mermaid blanket or any time you want to keep your hands warm without completely losing access to your fingers! (Like when sitting at your desk at work in the middle of winter shivering wondering how else you can stay warm. What? Don't judge.)
The colors are bright, fun and we know you won't be able to help but smile when you see the finished project!
If you're more of a written pattern fan, there is a written pattern available HERE.
When you're done, make sure to share your creations with us. We can't wait to see your beautiful fingerless gloves!