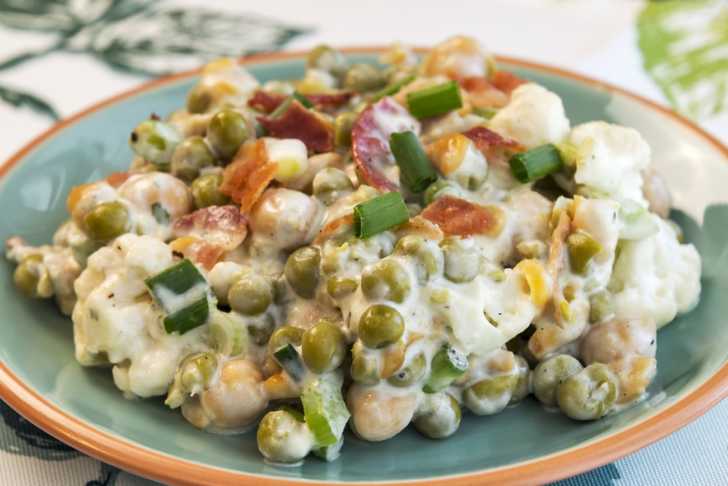 We love traditional salads, but sometimes we want to try something a little more unusual. This creamy salad looked a little strange at first, but once we tried it we quickly found out how full of flavor it is. It's easy to make, and the green peas pack in nutrients while giving it an appealing burst of color. We get requests for this salad all the time when invited to get-togethers; once people try it once, they're hooked!
Creamy Pea Salad
12
15 minutes active, 1 hour inactive
Ingredients
8 bacon slices
2 cups green peas, fresh
2 cups chickpeas, canned
1 1/2 cup cauliflower, chopped
1/2 cup celery, diced
1/3 cup sour cream
1 cup ranch dressing
3 teaspoons Dijon mustard
1 1/2 cups cashews, chopped
1 cup green onions, diced
salt and pepper to taste
Preparation
Mix together ranch dressing, Dijon mustard, sour cream, salt and pepper in a small bowl until completely blended. Set aside.
Cook bacon in a skillet over medium-high heat until browned, then chop and set aside.
Bring a large pot of salted water to boil and add the peas. Cook 1-2 minutes, or until just tender, then run under cold water to cool.
In a large bowl, combine peas, chickpeas, celery, green onions, cashews, cauliflower and bacon in a large bowl until well mixed. Add the dressing and mix until everything is evenly coated.
Cover and refrigerate for at least 1 hour before serving.
Recipe adapted from The Pioneer Woman