This project is perfect for the beginner and experienced quilter!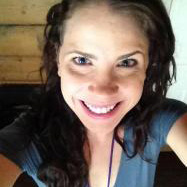 Katie Arnold
While I love a classic log cabin or dresden plate quilt, lately, I have been loving so many of the brightly colored, more modern quilt styles!
One of my favorites right now is actually this Color Strata Quilt from Rob at Man Sewing. Not only are the bright colors so pretty and fun, but since it uses 2.5 inches strips of precut fabric (jelly rolls), it will come together so quickly and easily, making it a great project for beginners as well as the more experienced quilter just looking for a quick, fun project!
I know you are going to love this tutorial and will be jumping to make this your next project! I absolutely can not wait to see the beautiful, brightly colored quilts you make from this tutorial so be sure to share when you are done! Happy quilting!