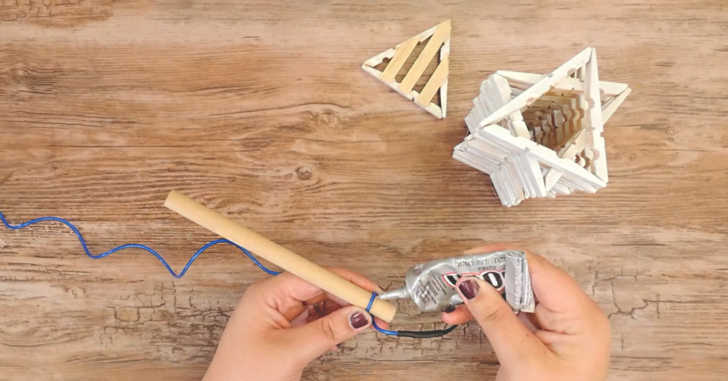 We've been looking for a way to use up a few leftover craft supplies, and discovered this awesome decorative lamp made from clothespins and popsicle sticks! We just used some leftover LED neon string lights, but if you have something brighter this project could be even cooler. I just love crafts that are cute AND functional – this lamp is the best of both worlds! You can leave the clothespins unpainted for a more natural look, or paint 'em up white like we did for a classy touch. Black and white would be fun too, with alternate layers of color. See what we did in the video below and get inspired to make your own clothespin lamp!
For more clothespin crafts, check out this fun music wreath!
Supplies:
– Clothespins – about 25
– 2 popsicle sticks
– Wooden dowel
– LED string light, or LED flexible lighting strip
– Glue gun & glue sticks
Directions:
1. Remove metal clip from each clothespin.
2. Make a triangle by glueing together clothespin pieces
3. Make 18 triangles, and stack them together. Secure with glue.
4. Make the last triangle a base by cutting popsicle sticks to size, and glueing them across the top of the triangle.
5. Cut wooden dowel down to size, if necessary, and glue to the center of the base.
6. Wrap LED string lights around wooden dowel, securing with glue and zip ties if need be.
7. Once glue has dried, and lights are secure, stick the base inside the tower of triangle clothes pins, turn on, and enjoy your light!