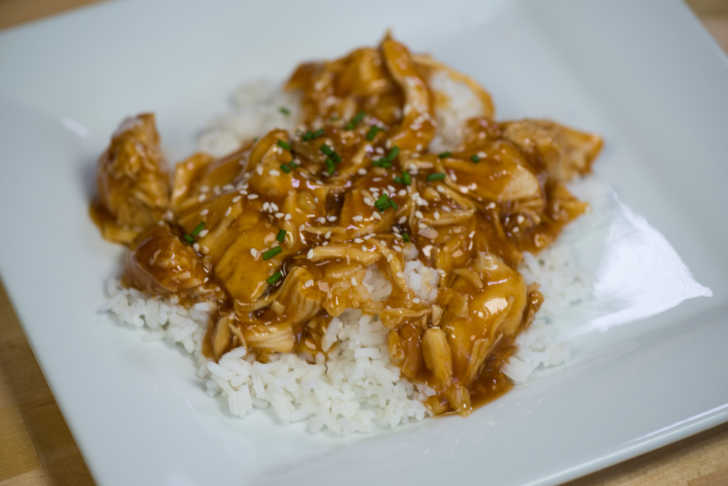 Some people think of slow cooker dishes as being bland and boring; you dump a bunch of ingredients in the ol' cooker, turn it on for a few hours and then what? – you're left with a mushy mixture that leaves you feeling "blah." Well, let us just say, that is a sad slow cooker experience that is completely avoidable if you use flavorful ingredients and you choose the right dish to make.
Here, we've got ridiculously tasty and tender bourbon chicken. The ingredient list is long, but completely worth it, since they all complement each other and make up this yummy sauce, and since it's all cooked together with the chicken, the chicken absorbs all the flavor and stays moist. This is one of our favorite dishes to come home to, so try it out and see what you think!
Slow Cooker Bourbon Chicken
Ingredients
3 1/2 pounds boneless, skinless chicken thighs
2 teaspoons garlic, grated
3 tablespoons cornstarch
3 tablespoons water
Sauce:
5 cloves garlic, grated
1/3 cup apple juice
1/3 cup soy sauce
1/4 cup bourbon
1/4 cup brown sugar
1/4 cup ketchup
1/4 cup apple cider vinegar
1/4 cup water
2 1/2 tablespoons honey
3/4 teaspoon red pepper flakes
1/2 teaspoon ginger, grated
green onion, chopped, garnish
Preparation
Whisk together sauce ingredients in a medium bowl until everything is combined, then place chicken in slow cooker and pour sauce over the top.
Cover slow cooker and cook on HIGH for 3 hours.
Remove chicken from slow cooker and cube or shred it.
Pour remaining sauce through a strainer into a medium pot over medium-high heat and bring to a boil.
Create a slurry by whisking cornstarch and water together until smooth, then stir into boiling sauce, along with grated garlic.
Reduce heat and stir until sauce thickens.
Once sauce reaches desired thickness, pour over chicken and serve hot, garnished with green onion.
Recipe adapted from Spend With Pennies