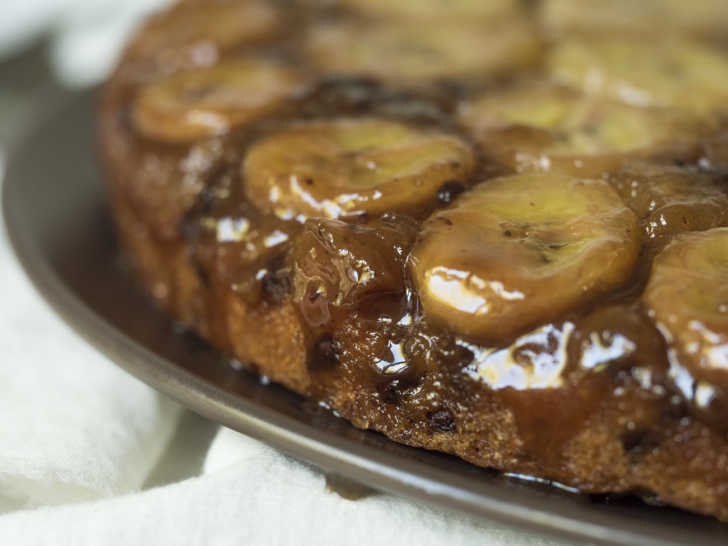 You know we love a good upside down cake, as seen here, so it's no wonder we decided to try our hand at a chocolate chip banana upside down cake. That's right, it tastes and looks just as magical sounds, so get ready to dive into this delicious treat…just get ready – when people hear you're making this, they'll come running!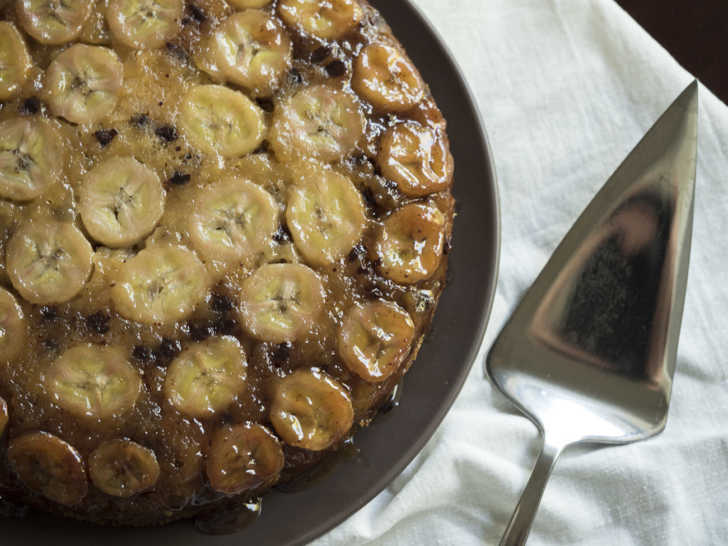 Basically a chocolate chip banana bread at its core, it's the addition of even more banana (upside down banana at that) and buttermilk that make this cake so yummy and pretty. Trust us, it looks way more difficult to make than it is, so don't let its beautiful exterior scare you off; it's totally doable, and you (and your friends and family) will be so happy you made this!
Banana Upside Down Cake
Ingredients
Topping:
2-3 ripe bananas
1/2 cup brown sugar
4 tablespoons unsalted butter
Cake:
2 ripe bananas
1 large egg, room temperature
1 cup all-purpose flour
1/2 cup (mini) chocolate chips
1/3 cup buttermilk
1/4 cup brown sugar
1/4 cup sugar
3 tablespoons unsalted butter, melted
3 teaspoons baking powder
1 teaspoon vanilla extract
1/2 teaspoon salt
Preparation
Preheat oven to 350º F and lightly grease a 9-inch springform pan with butter or non-stick spray.
Melt 4 tablespoons butter in a microwavable dish, then stir in brown sugar until dissolved.
Pour sugar butter mixture into greased springform pan and use a spoon or rubber spatula to spread it into an even layer.
Slice bananas into even rounds and spread them out evenly in the sugar mixture. This will end up being the top of your cake.
In a medium bowl, whisk together flour, baking powder and salt. Set aside.
In a large bowl, add remaining 2 bananas and mash them with a fork. Mix in egg, buttermilk, butter and vanilla, then stir in sugars.
Gradually mix in dry ingredients until just incorporated, then fold in chocolate chips.
Pour batter carefully over sliced bananas and tap gently on the counter so batter settles.
Place baking dish in oven and bake for 45 minutes, or until toothpick inserted in center comes out clean.
Remove from oven and let cool 15-20 minutes, then invert cake onto serving platter of your choice.
Serve warm and enjoy!
Recipe adapted from The Gourmet Gourmand