Very practical and functional, Hoosier cabinets aren't just pieces of antique furniture that sit unused.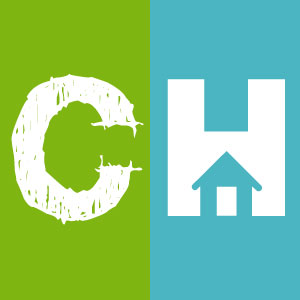 Crafty House
Very practical and functional, Hoosier cabinets aren't just pieces of antique furniture that sit unused. Oftentimes, they can still be used in kitchens to store and prep food just like in the olden days. Read below to learn all about them!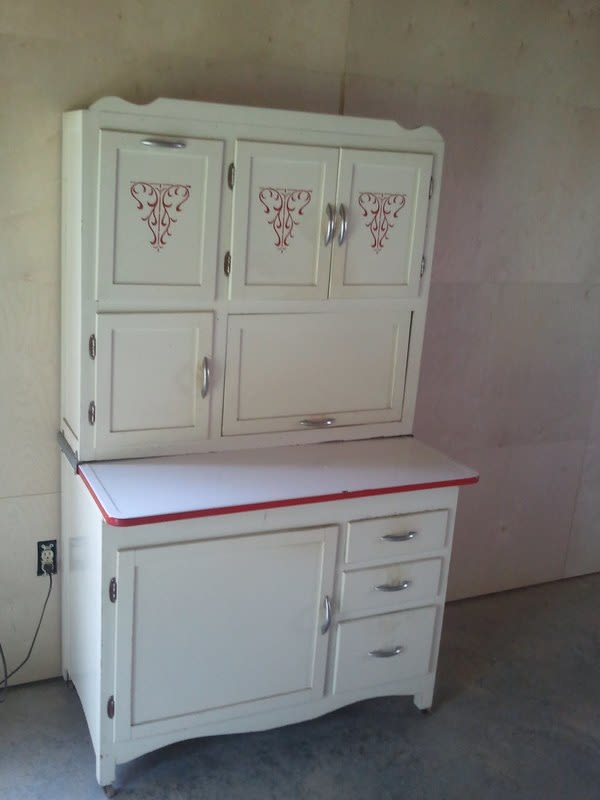 Photo credit:Rita-Hutcheson Cobbs
How old are they? Hoosier cabinets didn't hit the scene until the turn of the 20th century, though they were roughly based on baker's cabinets that were popular in the 19th century, according to SF Gate. Named after Hoosier Manufacturing Co., these cabinets were also made by several other companies ñ though most of them stopped manufacturing them in the 1930s.
Why did they become popular? These freestanding cabinets added a lot to kitchens — particularly extra storage space; built-in places for flour bins, spice racks, bread, and more; and a slide-out shelf that offers an extra surface to work on. According to the Indy Star,the popularity stemmed from kitchens of the time not being built with much or any cabinetry — so the freestanding Hoosier cabinets offered lots of added storage space plusan extra spot to prep food with the shelf to work on, all in one workspace. When kitchens started being built with more cabinets from the start, interest in the Hoosier cabinets waned.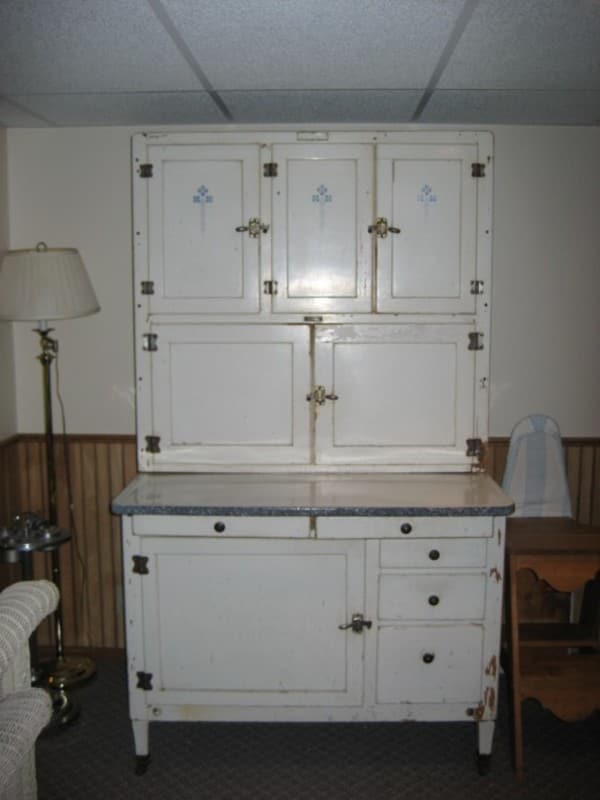 Photo credit:E.M. Hughes
Are they tough to find? There are still plenty of Hoosier cabinets out there, so it's all about separating the older versions from the more modern ones. It's definitely tougher to find the 1930s-ish art deco cabinets that Sellers sold, but those aren't as valuable to collectors. There are also plenty of reproductions, but you can click here to see ads for different types of cabinets based on the manufacturer and year, which feature photos of what the cabinets should look like (or check other reference guides).
How much do they cost? Depending on the condition, typically between $350 and $1,200, according to the Capital Gazette — though pure wood cabinets in perfect condition could cost closer to $2,000, according to Love to Know Antiques. Can you believe that back in the day they retailed for about $20?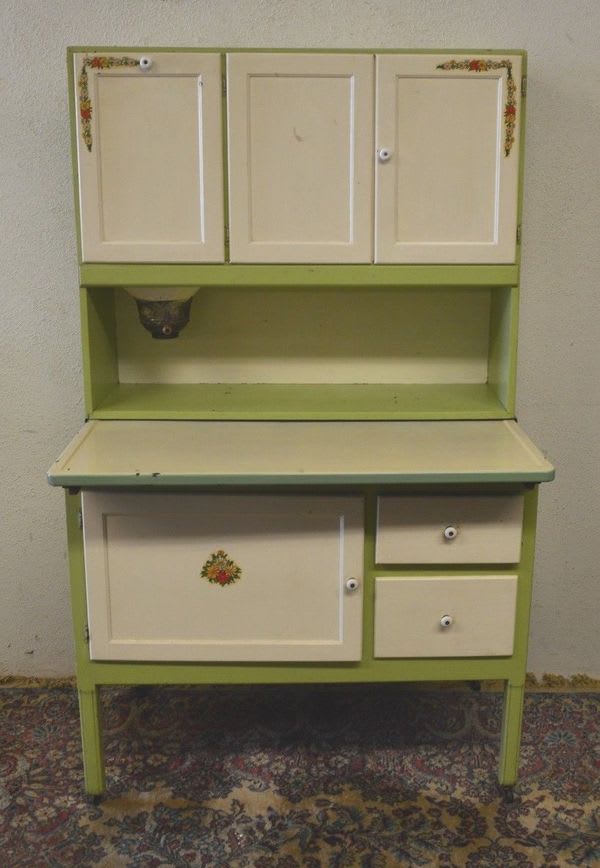 Photo credit:eBay
What are some identifying features?
Style: Hoosier cabinets have distinct features like a deep lower compartment for pots and pans, a porcelain workspace or shelf in the middle, and a shallow upper cabinet, according to eHow. It should have built-in pieces like flour sifters, spice racks, dish racks, and drawers lined with tin for bread.
Type of wood:According to William Austin's Antiques, most pre-1920s cabinets were made with oak, though some cabinets were also made with pine, white maple, and walnut.
Manufacturer: Furniture manufacturers always hid their special mark on a part of the piece that wasn't easily visible, like the bottom of the cabinet or inside of the door. Capital Gazetteexplains that Hoosier marked their door fasteners with an "H," while Sellers marked their cabinets with a small metal tag on the front. Other companies left marks on the back or bottom of the cabinet. If there's a date by the manufacturer's stamp, even better — then you can see if it was made in the early part of the 20th century.
Art deco: SF Gate explains that Sellers tried to modernize the Hoosier with glass door inserts, curved lines, and contrasting paint colors, which typically aren't as sought after as the traditional Hoosier cabinets of the early part of the century.
Enjoy the hunt for these classic antique cabinets!