Plus, see how to easily make a ton of half square triangles!!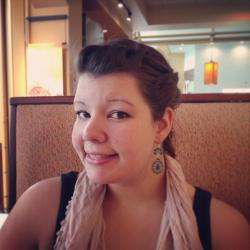 Jessica Griggs
This quilt is just gorgeous! Quilt along with Angela from Craftsy as she shows us start to finish how to create this stunning "All Roads Layer Cake" quilt – and stay tuned for the free pattern! Have you seen the Midnight Quilt Show before? It's one of my favorite quilting shows on YouTube, second only to Jenny from The Missouri Star quilt company, of course. In the Midnight Quilt Show, Angela completes a quilt and chats with us with her glass of wine and bowl of popcorn, of course! How else do you quilt?!
I love all of the tips and tricks we pick up along the way. For example, in tonight's video, we learn a quick and easy way to get a lot of half square triangles really fast! Plus, we see how Angela quilts the top of this quilt. Even though she's a professional quilter, she still makes a few mistakes. But, as Angela says, "If it happens once, it's a mistake. If it happens twice, it's a design choice." I couldn't agree more. Happy quilting, friends!