These crafts are a great way to get an important conversation started, as well as say thanks to a veteran!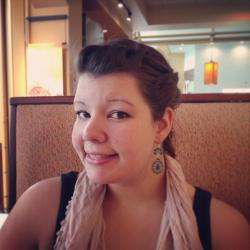 Jessica Griggs
Talking to your kids about Veterans Day can be difficult, if not downright impossible! It is not necessarily the most kid-friendly holiday, but it is our job to pass on these traditions, and explain the importance of honoring the brave men and woman who serve our country proudly. A lot of times, these difficult and abstract conversations can be aided by follow up actions; don't just say you're thankful, show it! The following crafts are great ways to not only get the conversation started, but also to have something to pass along to a veteran on Veterans Day. Check out the patriotic crafts below!
Helping Hand Wreath
While this wreath is ideal for a class, it could easily be done within a family with several kids. What a thoughtful way to personalize a thank you!
Flag Card
Cards are a classic way to honor vets, and how cute is this little hand print?!
Torn Paper Poppy
The poppy is the official symbol of Veterans Day, so what better way to show your solidarity than with a poppy craft?
Safety Pin Flag Pendant
This is a great patriotic craft to wear all year around, but it holds special significance on Veterans Day!