These little guys are so easy to make!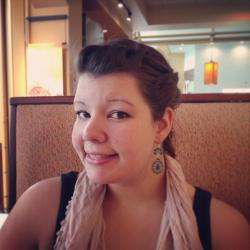 Jessica Griggs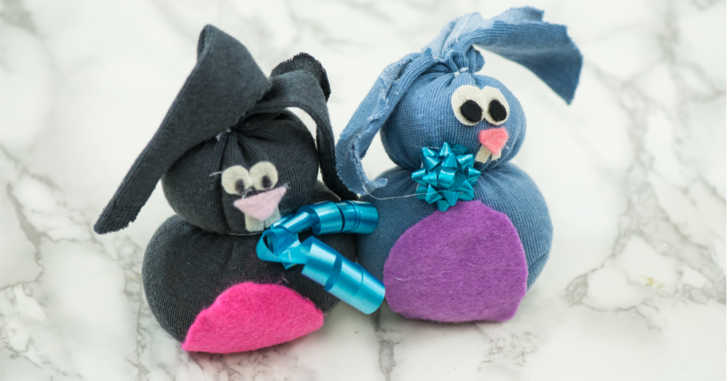 These little guys are so easy to make! All you need is a pair of socks, rice, string, and felt! That's right, get these adorable sock friends using leftovers from the craft room and kitchen. I bet the kids would love helping you put everything together! We had some tiny bows and ribbon left over from Christmas to embellish the bunnies with, but they would look cute with a little fabric bow tie, or a strand of beads, or anything you have on hand. We also happen to have some pom poms left over from another craft, but you can easily make your own little bunny tail using string. See how we did it in the video below, and then get to work on your little festive friends!
Supplies:
– Sock
– Rice
– Felt
– Pom Pom
– String
– Hot glue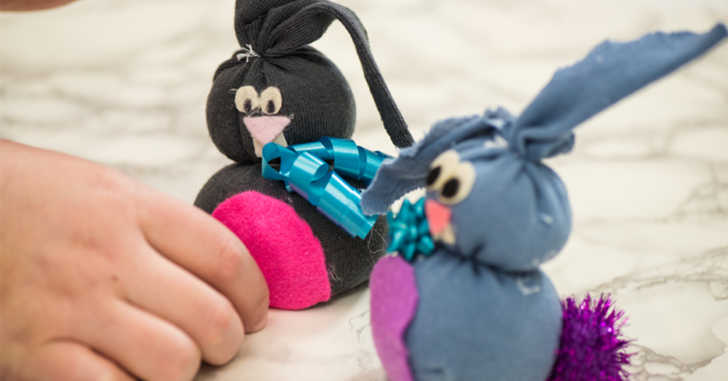 Directions:
1. Fill sock ½ full with uncooked rice.
2. Tie a string around the sock twice to create a head – once around the neck, once around the top of the head.
3. Cut an oval from contrastic felt for the belly. Attach with hot glue. Cut eyes, teeth, and a nose from felt, attach with glue.
4. Glue pom pom on the back for the tail.
5. Tie a bow and attach at the neck.
6. Cut the top of the sock in half to make ears. Snip off corners to round out the ears.